Lost Urban Histories / Gentrification
This week I have decided to focus on projects that attempt to resurrect lost urban (New York) histories in the face of gentrification. This is a cause that is very dear to my heart because as a 12 year New Yorker, who grew up low income and identifies as queer, these histories often represent a part of my personal narrative and my understanding of home.
As an anti-racist and radical feminist these stories shape my politics. Exposure to the diverse narratives and histories of NYC helps me to understand and come to terms with the realities of our cultural and communities narratives, as well as my privileges.
As these histories disappear and our resulting collective memory fades, so does our nuanced understand of place and self.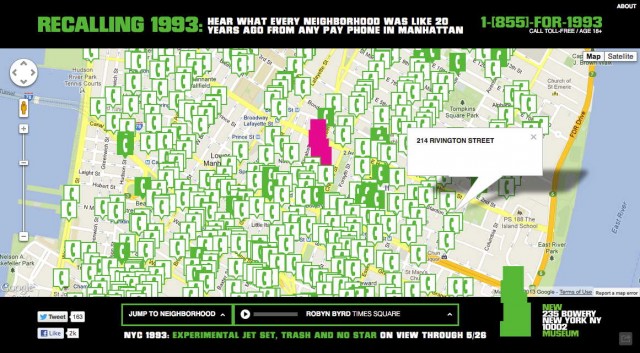 "New Yorkers are invited to make a free call to 1-(855) FOR-1993 (sadly this won't work from your mobile phone) to hear oral histories of what life was like two decades ago in the neighborhood where the payphone is."
"The phone-based art project is also part of an art exhibit called "NYC 1993: Experimental Jet Set, Trash and No Star," which is running through May 26, 2013 at the New Museum."
Fogg MAT Mapping:

This project was particularly easy to engage with. It was brightly designed and easy to spot on the streets on NYC. All you had to do was pick up a phone that was right in front of you and dial a number that was written in huge letters and positioned right in front of your face. Most New Yorkers are in a rush so motivation to stop and check out the work might be low. But at the time it received a lot of press and was connected to the New Museum. Those who kept taps on art and public projects in NY knew about it. And were very likely to want to give it a try.
"National Register of Historic Places, 2013 Additions, Brooklyn, NY consists of ten handmade plaques placed in ten locations in Brooklyn. These plaques designate each site as possessing "national significance in commemorating the history of the United States of America" and provide facts explaining this historical significance. These facts are all based on research conducted at libraries and archives"
Fogg MAT Mapping:

I love this project but it is subtle and hard to notice. Though I did once encounter a sign and spend at least 20 mins examining it – I am a niche market. The plagues are well placed but hard to see, dark and they contain long text that most New Yorkers are not going to take the time to read.
"'Here to Stay' is a community art project of the Chinatown Art Brigade that includes a series of large-scale outdoor mobile projections that will address themes of gentrification, displacement and community resilience in NYC's Chinatown. Artwork based on oral histories, photography and video created in community-led workshops will be incorporated into photo and video montages that will be projected onto buildings and public landmarks in Chinatown and the Lower East Side. "
Fogg MAT Mapping:

You can't ignore this project when you encounter it. Huge projects on buildings, in a crowded city, in a busy neighborhood.  They are easy to view and simple to engage with. It's function is to draw attention to a cause and at least for a moment it does that with whomever happens to be on the street.
"Urban Layers is an interactive map created by Morphocode that explores the structure of Manhattan's urban fabric.
The map lets you navigate through historical fragments of the borough that have been preserved and are currently embedded in its densely built environment. The rigid archipelago of building blocks has been mapped as a succession of structural episodes starting from 1765."
Fogg MAT Mapping:

Because this project is an interactive map I believe there is more motivation to engage with it. Also because it catalogues the history of the homes we all live in most New Yorkers who encounter it are likely to at least explore its resources at least once. It is easily shared on social media which is where I found it. The map is pretty and definitely  makes for good click bate.
Bonus: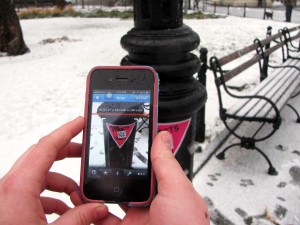 This is a project I developed in 2011 along with my collaborator Wesley Flash, a historian and artist.
Whose Streets Our Streets (WSOS) is a smart phone enabled walking tour featuring sites of queer resistance in New York City. Using QR codes on physical sites throughout the New York urban landscape, the project invites curious participants to learn about the streets upon which they stand. By scanning the code on a phone or tablet while walking through physical space, active users can follow the digital markers to simultaneously access photos, videos, and historic information online in real time.
Fogg MAT Mapping:

---
Comments are closed.